Earlier today, FWB DAO ratified a $220k budget proposal for Q4 2023. The proposal was passed amid disgruntled calls from some members of the community.
The Friends With Benefits (FWB) Q4 proposal received about 94% support from voting participants, with just 6% kicking against the idea. However, the largest supporter accounted for 77% of the voting power, meaning that the proposal would have been approved nonetheless. In terms of sheer numbers, the proposal saw 23 votes – 15 in support and 8 against.
"Another quarter of slow bleed; gutted budget without the real reset that's needed," said one of those who voted against the proposal. "Bloated budget, passed without quorum. We can do better," another added.
A Positive Q3
Despite the pushback from a few dissatisfied members, FWB recorded a positive cash flow in Q3; a first in the DAO's history.
The Web 3 collective generated a total revenue of $789,820 between July to September. Most of the funds came from Fest Partnerships. However, nearly half of the amount was used to facilitate the FWB Fest. Product development and DAO operations also gulped significant sums. The total operational expenses for the three months were $767,737. This left the DAO with roughly $22,000.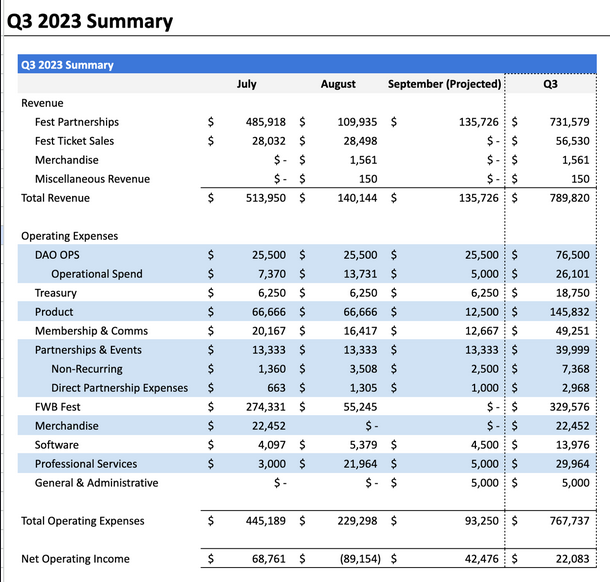 To date, FWB has generated $849,000 in partnership revenue and anticipates an additional $300K by year-end. The DAO has also lowered recurring compensation and expenses from $167,000 in April to an estimated $70,000 in July.
The Q4 Budget
According to a draft of the Q4 budget, between $25,000 to $28,000 will be allocated to recurring DAO operations each month. Roughly $12,000 will go into partnerships monthly. Overall, $91,583 has been earmarked for October, while November and December will each receive a budget of $65,416.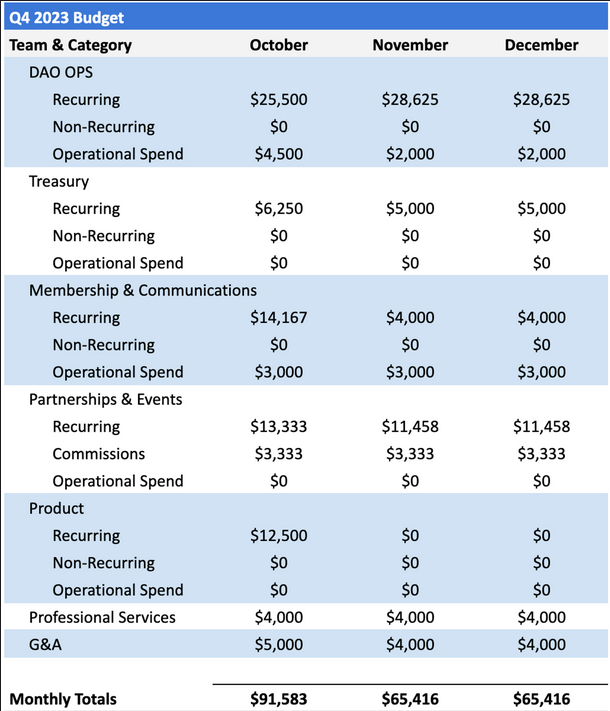 Meanwhile, Q4 will mark the introduction of "a Partnerships Commission model using margin-based incentives to tie commission to [the] profitability of a deal, rather than its gross value."